Denial of Self- The Call of Discipleship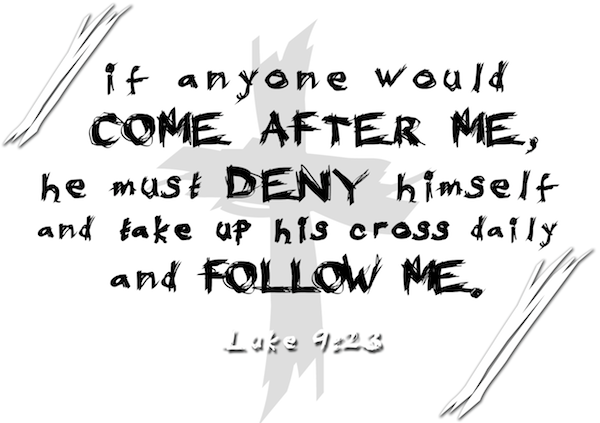 In a day in which we are urged to pamper ourselves, the biblical message is to do the opposite. Self denial through the power of the Holy Spirit is the means by which the believer may remain devoted to Christ. We are to be transformed (replacing self) and live a life worthy of our position in Him. - Dr. Dennis Dieringer
The Bible can be described as a mirror, as it can easily reflect what we are like. For example, Jeremiah 17:9 describes the condition of the human will and emotions, called the heart. Here the prophet states that the heart is deceitful above all things, and desperately sick. Also see Romans 3:9-20.
This is a picture of what God sees in us outside of Christ.
Even still, we know that this nature, while conquered, is a part of us that is with us through-out this life. The work of the cross has given us freedom to overcome this nature. We must actively pursue denial of the self. We can do this by focusing on Jesus.
When we turn to the Bible, it also acts like a mirror in the way that it reflects what God is like. This is the message of Romans 12:1-2, where the apostle Paul tells us to present our bodies as a living sacrifice, not focused on the things of this world, but to allow our transformed minds to discern the will of God so that we can determine what is good and acceptable and perfect.
God's Word is the mirror.
Further, we must deny ourselves so that the authority of our life changes. God desires for us to say no to ourselves so that He can be the one who controls us.
We can not win the battle of the flesh by ourselves, we must take up our cross daily to be a disciple of Christ, so that we may be led by the Spirit. The only way to do this is to say no to yourself.
When we walk in the Spirit, we can experience pure devotion to Christ. In this way, his disciples become like the virgin bride presented to her husband, pure and clean, awaiting Christ return. Paul describes this in 2 Corinthians 11:2, where he relates to the Corinthians as their spiritual father; that is, he was like a father who presented them to Christ on the wedding day. This, by way of metaphor and simile describes the work of sanctification. When we walk in the Spirit and focus our lives on Jesus, we are also like a pure and perfect bride.
We can't win the battle between flesh and Spirit alone.
The cross is the answer.
It is how we are saved and how we grow in Him. This is lived out through the Christian virtues… meditation, Scripture reading and memorization, Church assembly and corporate worship, study, and prayer. Our focus must be there!
Comments
✴️ Also on Micro.blog